Kwame Nkrumah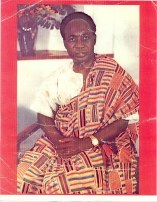 KWAME NKRUMAH: THE HONOURABLE FATHER OF ALKEBU-LAN (AFRIKA) LIBERATION.
KWAME NKRUMAH WAS BORN FRANCIS NWIA KOFI NKRUMAH IN ANKROFUL, ESTERN REGION OF GHANA. THE FATHER OF ALKEBU-LAN LIBERATION WAS SENT BY AMEN-RA AND OUR HOLY ANCESTORS IN THE 1950s TO SEND FORTH THEIR MESSAGE OF RIGHTEOUSNESS,JUSTICE AND TRUTH; HIS ASSIGNMENT WAS A DIFFICULT TASK,BUT, THE SPIRIT OF OUR HOLY ANCESTORS
WAS GUIDING OUR DIVINE FATHER SO THE DEVILS' SERVANTS WOULD NOT HAVE ACCESS TO SILENCE HIM AND DESTROY HIS PURPOSE. AT THIS TIME,THE MOST POWERFUL COLONIAL
NATIONS WERE KNOWN AS GREAT BRITAIN AND FRANCE. AS HIS ASSIGNMENT BEGAN, NKRUMAH WAS POSITIONED AS THE FATHER OF ALKEBU-LAN LIBERATION AND WENT FORWARD UNTO BATTLE, WITH THE SPIRIT OF OUR HOLY ANCESTORS
GUIDING HIM TO RELEASE THE ALKEBU-LAN NATIONS FROM THE MONSTROUS OPPRESSIONS THAT HAD OVERTAKEN THEM, SPECIFICALLY; COLONIALISM, IMPERIALISM AND SPIRITUAL
GENOCIDE.
IN 1956, KW AME NKRUMAH STOOD FOR ELECTION
IN GHANA AND WHILE THE ELECTION CAMPAIGN WAS IN PROCESS, HE WAS ARRESTED. AND IMPRISONED IN JAMESTOWN FORT PRISON. DURING HIS IMPRISONMENT, HE WON THE GHANAIAN ELECTION AND WAS THEREFORE
RELEASED TO COMMENCE HIS NEWFOUND ROLE AS
FATHER AND LEADER OF ALKEBU-LAN LIBERATION.