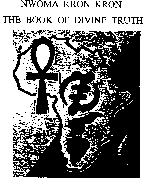 "AFRIKANIA IS MY FAITH".

AFRIKANIA IS MY FAITH BASED ON AMEN-RA HIMSELF/HERSELF AND THE BEST TRADITON OF MANKIND WHICH BEGAN IN AFRIKA.

COME- ALL MEN AND WOMEN WE ARE ONE FAMILY TO PROCLAIM THIS ANCIENT AND TRUE FAITH IS TO SERVE AMEN-RA AND ALL MANKIND.

WE BELIEVE IN ONE DIVINE CREATOR HIM ALONE DO WE SERVE. WE SERVE HER THROUGH SERVICE TO MANKIND. THIS IS THE ONE AND ONLY LAW.

LOOK UP TO AMEN-RA IN ALL YOU D0, HE WILL COME TO YOUR AIDE IF YOU CALL ON HIM EVERYDAY. HE IS MANIFEST IN YOU CONTINOUSLY.

THE FOUNDATION OF OUR LIFE IS HIS LOVE AND JUSTICE, THESE DIVINE ELEMENTS SHOULD BE OUR GUIDING LIGHT AND PRIDE TODAY AND TOMMORROW.

AMEN-RA CREATED EVERYTHING MATERIAL, SPIRITUAL, PLANT AND ANIMALS. HE/SHE ALONE CREATED ALL THINGS.

NANA NYANKOPON, NKOSI, MOUSAMA, MUNGU, NAMMO, AND JAH, HELP US ALL TO SERVE YOU AND LOVE YOU BY LOVING YOUR CREATURES FOR YOUR HONOUR AND GLORY.

MAY YOUR WILL BE DONE.

AMEN-RA